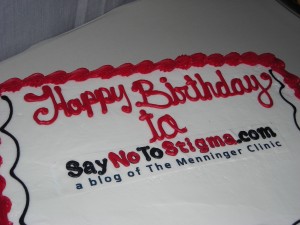 Happy birthday to you,
Happy birthday to you,
Happy birthday, dear SayNoToStigma.com,
Happy birthday to you!
That's right–our blog just turned 1 year old. We've had a great first year, and we want to give a special "shout out" to all our many readers. Your comments have been particularly rewarding, and we do appreciate you taking time to read our posts and participate in our blog. Without you we wouldn't be where we are today.
We hope you'll keep coming back to our blog throughout our second year, since we'll be introducing some new bloggers and publishing some different types of posts. Who knows, we may even have more guest bloggers joining us this year.
So thanks for all your support during the last year, and here's to many happy returns for SayNoToStigma.com and its loyal readers!