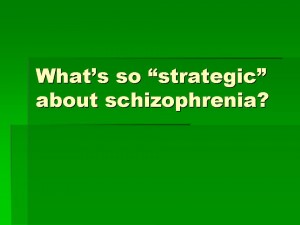 Imagine yourself sitting in a small auditorium at an international conference with healthcare executives. A leader in healthcare, seen as having authority and credibility, is presenting and uses the phrase "strategic schizophrenia" on his PowerPoint slide and in his speech. He is using this terminology to describe elements of healthcare reform.
What would you do?
I confess, as an audience member in that very situation, I heard little of the speaker's subsequent message. I was too preoccupied with his use of the phrase "strategic schizophrenia." He was using this to leverage a strong, negative emotional response toward pending reforms to our healthcare system. Because there is still so much stigma toward mental illness, the presenter could evoke the intended response from the audience. As a perceived authority figure, he also is able to contribute to the stigma associated with mental illness.
What could I do?
At the close of the presentation, a friend and colleague who had been sitting a couple of rows behind me rushed down to me asking (as well as exclaiming), " Did you have a visceral reaction to that?!" She did not have to specify further. This individual knows me. She knows where I work. She has heard me profess my passion for mental healthcare. If I walked away, what message would I convey?
I had no doubt this speaker will present the same speech to other audiences; his views are sought after. Taking a deep breath, I requested a brief word with the presenter. He was pleasant and appeared genuinely surprised by my respectful objection to the use of the phrase "strategic schizophrenia." He explained he was merely drawing from what he had found in the healthcare literature. I acknowledged this could be what was written, but raised the question about re-thinking what he, as a leader, chose to quote, understanding the potential unintended consequences.
He offered assurances that he would, in fact, commit to changing the wording in his presentation. I hope he does.
That day I did not keep silent. We are each presented with opportunities to speak up. One at a time, we can choose to say "no" to stigma until there is no stigma to say "no" to.