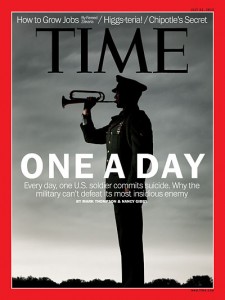 The July 23 cover story in Time magazine reminded us that the suicide rate among active-duty U.S. military personnel has essentially doubled over the past decade, accounting for more deaths than actual combat in Afghanistan during that period. This sad fact is all the more tragic because we do not understand why the rate has increased so dramatically.
Finding context in history
Compounding our inability to understand this current epidemic is a lack of historical data to provide context. In an empirical study that was just released online in the Journal of Anxiety Disorders¹, we reviewed historical medical records on suicides among Union forces during the U.S. Civil War, which took place 150 years ago.
We found that suicide rates for white active-duty Union military personnel ranged from 8.74 – 14.54 per 100,000 during the war. For black Union troops, rates were 17.7 in the first year of their entry into the war (1863), and 0 in their second year.
These numbers compare to a current rate of just over 20 per 100,000 for the U.S. military. Said another way, there were more military suicides in 2010 alone (total suicides = 295) than during the entire four years of the Civil War, for which we found 278 documented Union suicides.
Combat intensity
In an accompanying commentary², Harvard University psychologist Richard J. McNally noted that these findings on military suicides during the Civil War occurred within the context of shockingly intense combat operations. That is, the death rate for Union forces during the Civil War was 48 times higher than for modern U.S. troops serving in Iraq and Afghanistan. Thus, the data from the Civil War indicate that combat intensity by itself is not necessarily a strong predictor of military suicides. This is underscored by the authors of Time's cover story, who point out,
"Nearly a third of the suicides from 2005 to 2010 were among troops who had never deployed; 43 percent had deployed only once."
We hope that considering a historical perspective can help us better understand and begin to reduce the tragic occurrence of suicide among our nation's warriors.
References
1. Frueh BC, Smith JA. "Suicide, alcoholism, and psychiatric illness among Union Forces during the U.S. Civil War." Journal of Anxiety Disorders; 2012.
2. McNally RJ. "Psychiatric disorder and suicide in the military, then and now: Commentary on Frueh and Smith." Journal of Anxiety Disorders; 2012.