Fighting the stigma of mental illness is a difficult and never-ending process, despite the great progress we have made in the last few decades. Unfortunately, the recent shooting in Aurora, Colorado, will likely add to the difficulty.
Misperceptions fuel stigma
Tragic events like these often fuel the misperception that anyone with a mental illness could be violent and dangerous. It is a natural assumption to make with the pain and shock of the murders fresh in our minds. However, such assumptions are inaccurate, and they unfairly stigmatize people with mental illness. The fact is, people with mental illness are not more likely to engage in violent behavior than the general public.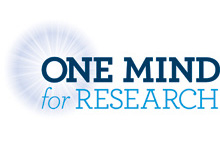 Defeating fiction with facts is one way One Mind for Research is tackling the stigma of mental illness. Led by former congressman Patrick J. Kennedy and businessman Garen Staglin, One Mind for Research is a bold initiative bringing together renowned neuroscientists, advocates, policy makers and others to cure diseases of the brain within the next 10 years. Kennedy compares their plan to the ambitious goal of his late uncle, President John F. Kennedy, to land a man on the moon, and the slogan for the current effort is "a moonshot to inner space." It's a huge goal, they admit, but they are committed.
Focus on stigma
I attended their first annual meeting in May — a dazzling event featuring sessions on the latest research and treatments for brain disorders and attended by mental health professionals from across the country. But what set the conference apart was its emphasis on stigma, most notably a panel on "The Science of Stigma," moderated by actress Glenn Close, who has family members with mental illness. The panel featured Elyn Saks, PhD, a law professor at The University of Southern California, recipient of a 2009 MacArthur Foundation "genius" grant and author of The Center Will Not Hold, Saks' bestselling, brave memoir of her struggles with schizophrenia.
I say brave, because schizophrenia is still one of the most misunderstood and "scary" types of mental illness, and the people who have it are often shunned. Saks, who is a leader in her field, is a great example of how a person with a brain disorder can lead a successful life with the right treatment and medication.
Financial burden
One Mind for Research is partnering with high profile people like Saks to underscore its message: Mental illnesses are brain disorders and should be treated like any other disorder or disease of the body, like diabetes or heart disease. They also cost our country a fortune.
At the conference, Michael Thompson, a principal at PricewaterhouseCoopers, presented new data showing that the annual cost of treatment and long-term care for brain disorders in 2010 was $476.1 billion and is estimated to be $515 billion in 2012 (19 percent of the United States' total national health expenditure). If we include the indirect cost of treating brain disorders, such as missed work days and lost jobs, that cost estimate increases to $934 billion.
That's a staggering amount of money, and it shows just how prevalent and widespread brain disorders are. We shouldn't treat brain disorders as shameful secrets or as signs of "weakness." Instead, we should help reduce the stigma of mental illness that prevents many people from getting treatment.
Helping veterans
In particular, One Mind for Research is focusing on members of military with brain disorders such as posttraumatic stress disorder (PTSD). Some members of the military and veterans view seeking help from a mental health professional as a "career killer," and they don't get the help they so desperately need. With General Peter Chiarelli (ret.) on board as chief executive officer, I have high hopes that they will break down some of the barriers to treatment for our deserving military.
Reducing stigma
Thanks to collaborations like One Mind for Research, we are getting people to take mental illness seriously — and we are making some good progress reducing stigma. Many people now think of alcoholism, anxiety, depression and PTSD as treatable conditions, rather than personal weaknesses.
Fighting stigma remains a difficult challenge, however, and each tragic news story linking a mentally ill person with a violent act increases that challenge. Eradicating stigma will take time and persistent effort, on the part of mental health professionals, advocates, patients and members of our community. We still have work to do.