These days "friend me" has become an action, indicating someone wanting to establish contact on Facebook. What started as a purely social networking site has expanded into a medium for change, but nothing so important as the Facebook service designed last year to help prevent suicide.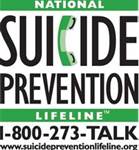 When on Facebook, users can provide support and help to friends when they identify comments that appear to indicate thoughts of self-harm or suicide. If someone has concerns for a friend, they can use either the Report Suicidal Content link or other report links throughout the site.
The person who posted the suicidal comment will receive an email from Facebook encouraging them to call the National Suicide Prevention Lifeline at 1-800-273-TALK (8255). Alternately, the person can click on a link to begin a confidential online "chat" with a crisis worker.
The Lifeline is a toll-free hotline that has 152 local crisis centers across the country and is funded by the Substance Abuse and Mental Health Services Administration. The hotline is answered 24/7 and has answered over 3 million calls since it started in 2005.
The Surgeon General of the United States, Regina Benjamin, MD, MBA, serves on the National Action Alliance for Suicide Prevention. On the Surgeon General's website, she points out,
"Nearly 100 Americans die by suicide every day, which is 36,035 per year…. These deaths are even more tragic because they are preventable."
"Identifying those at risk is the cornerstone to suicide prevention," says Kelly Posner, director of the Center for Suicide Risk Assessment at Columbia University/New York State Psychiatric Institute.  "Facebook's innovative services enable concerned users, or 'friends,' to intervene immediately and initiate this life-saving identification process. Reaching people through venues they use and providing them with referrals is an important and encouraging step in the right direction."
The military is keenly aware of the problem of suicides. According to Veterans Affairs Secretary Eric K. Shinseki, a retired Army general, former Army Chief of Staff, and a combat-wounded Vietnam veteran, "Suicide is the second-highest cause of death for young people ages 25 to 34."
It is a problem the military has seen acutely in the last 10 years, and the Veterans Administration has also focused this month on prevention of suicides. Since many armed services personnel keep in touch with family and friends by using Facebook, this service can help identify and refer active-duty military when a concern is raised, saving Americans even far away from home.
For those who want information on how to help identify someone at risk for suicide, I recommend the American Foundation for Suicide Prevention. The site offers clear guidelines about psychiatric disorders, warning signs of imminent danger and some concrete things to do to help.
Once a concern is raised, a referral to a crisis intervention hotline or other professional treatment is needed to prevent the senseless loss of life to suicide. What better act of friendship could there be?