When I began my studies in social work, I had some pretty big ideas of how I was going to change the world. I very purposefully made the choice not to study clinical social work and decided that I would take a macro approach. I was going to be a community organizer and change communities; I would be a champion for those less fortunate! Then I graduated and couldn't figure out exactly how to do that while still paying rent and my student loans. I quickly joined the Peace Corps and all those questions were answered.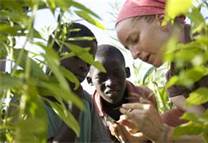 Obviously I thought, when I completed my Peace Corps service, I would be an intrepid development worker wearing khaki pants and driving jeeps through the desert to deliver food to the hungry or medicine to the sick. Or at least that's what intrepid development work looked like in my head. But alas, I really like long showers and familiar food, and while I loved West Africa, it was just so unrelentingly hot. Needless to say, that didn't quite pan out.
Next steps
The truth is that I had no idea what a social worker with my training could do, and I mostly gave up on my big dreams. After some years of very rewarding work resettling refugees and being a pretty good fundraiser, I was grateful for my training, but I knew I would never truly be a social worker. 
Then I stepped foot in The Gathering Place. I had never heard of the clubhouse model for adults with chronic mental illness and wasn't sure what to expect. I knew a lot about mental illness from my studies and from dealing with a family member who was mentally ill, but this wasn't about therapy or medication management. This was about learning how to thrive and be part of a community. I immediately knew I was home. 
The meaning of social work
The first time I met Janet, she was sitting in a corner of The Gathering Place with her arms folded. Unwilling to talk to any of us, she was still trying to figure out what she was doing there. About a week later, she started regularly attending our Country Store meetings where members volunteer to run the on-site canteen and sell snacks to other members. Unfortunately, she wasn't volunteering for any assignments.
After some prodding by other members and with help from staff, two weeks later she started helping out by cleaning the store. Then she started to open up and tell us that what she really wanted to do was work that cash register, but she was scared. We helped her train on the register and build up her confidence. A month later she was an expert on the cash register and training other members. Six months later she had a job at a local big box store as a cashier, and I finally understood what it meant to be a social worker. 
I am truly living the social work dream at The Gathering Place. My job as director is to change the world one member at a time. I get to be a champion for those less fortunate while participating in pool tournaments, festivals of all sorts and baking birthday cakes alongside our members, whom I adore. I am a cheerleader, opportunity creator, talent scout and partner.
One of the members paid me a compliment last week by saying that she could count on me to always walk with her through whatever struggle she was having. Of course I will; that's my job. I'm a social worker.