Serious mental illness is debilitating, confusing and overwhelming. As a society, one might imagine our response to mental illness might model the response to other public health challenges like heart disease, diabetes or breast cancer. Sadly, the opposite seems to be the case. Take the time to Google "mental illness is" and you find "mental illness is a myth" is the top search result, and "it does not exist" is the third result.
Prisons as providers of mental health treatment
In the 1950's, there were more than 500,000 inpatient state hospital beds in the U.S. Without going into too much detail, suffice it to say that this system suffered from underfunding, mismanagement and abuse. Lawsuits were brought to reform the system of mental health treatment and did succeed in shutting down numerous facilities that provided substandard care.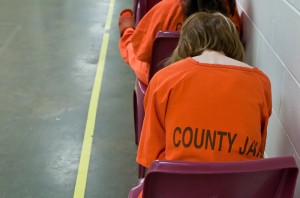 Presently, there are 50,000 public hospital beds in the U.S. available for inpatient care. Judging by the decrease in these beds since the 1950's, one might conclude that serious mental illness has been eradicated in America. But the truth is that the vast majority of such cases are now treated in outpatient clinics, intensive outpatient programs, support groups, etc. (Keep in mind that the U.S. population has effectively doubled in the same timeframe.)
If one were to imagine the most inhumane and ineffective way to address the ongoing issue of mental illness in America, incarcerating people with mental illness would surely be near or at the top of our hypothetical list. Yet the largest mental health facility in the country is the L.A. County Jail; the second largest is the Harris County Jail in Houston.
Just to be clear, the largest treatment providers for mental illness in the U.S. are jails.
Jails, prisoners and mental illness
The U.S. Department of Justice statistics (from September 2006) are grim:
43 percent of state prisoners and 54 percent of jail inmates met criteria for mania

15 percent of state prisoners and 24 percent of jail inmates met criteria for psychotic disorder

state prisoners were twice as likely to have been homeless in the year prior to their arrest compared to those without mental illness (13 percent vs. 6 percent)

inmates with mental health problems were three times as likely to report physical and sexual abuse in the past (24 percent vs. 8 percent).
Keep in mind that the overall incidence of serious mental illness in the U.S. population, according to statistics from the National Institute on Mental Health, is about six percent. If we just look at symptoms and not full-blown diagnostic criteria, a staggering 60 percent of county jail inmates, 49 percent of state inmates and 40 percent of federal inmates had symptoms of major depression, mania or psychosis in the 12 months prior to incarceration.
More than half of those incarcerated who met criteria for a serious mental illness also met criteria for a dual diagnosis, that is, a psychiatric illness AND substance abuse or dependence. Nearly one in three inmates with mental health diagnoses receive treatment while incarcerated and that number has been rising during the last few decades.
The cost of caring for inmates with mental illness
According to the National Alliance on Mental Illness, the cost to house – and, in one-third of cases, treat – prisoners with mental illness is at least $9 billion dollars per year. This illustrates a basic and fundamental reality: Mental illness does exist, and there is a cost associated with it that cannot be avoided.
As a society, we can relegate serious mental health treatment to jails, or we can choose to shift those responsibilities back to hospitals, clinics, providers and support groups. The cost to provide community support and mental healthcare on an outpatient basis is significantly less than the cost to treat a prisoner with mental illness. A novel study by the University of South Florida examined the highest users of mental health services in the criminal justice system in Miami. What the researchers discovered was that 97 individuals, mostly people suffering from schizophrenia, were arrested a whopping 2,200 times, spent 27,000 days in jail and cost the county $13 million over a five-year period.
The preceding comments have generally been approached from a pragmatic perspective. However, it might be useful to avoid eschewing morality altogether. If you think of the mentally ill as a subset of the needy, then I think comedian Stephen Colbert framed it quite aptly; just take a look at this clip: