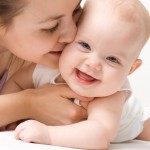 Someone very dear to me is about to deliver her first child, a son. She is preparing for him; my instinct and need is to prepare her. There's so much I wish I could tell her about motherhood and parenting, yet there's no way I could even begin to encompass it all. I've winnowed it down to these pieces of advice:
For a while you will be the most important person in your son's life. You will be his world. His eyes will light up when he sees you or hears your voice. His need for you, his absolute dependence on and reverence of you, will be humbling.
Your capacity for love will astound you. Your instinct and need to protect this tiny person will turn you into a momma tiger when you sense he is about to be hurt; you will gladly exchange your life for his if you think you can save him.
He will believe what you teach him about himself. Do you see him as smart, kind, good? If so, tell him. When he's a teenager, he may forget these seeds you've planted, but the plants will eventually sprout and then bloom and then thrive.
Tell him the good things you see in him. Often.
Ensure his safety, both physical and emotional, to the best of your ability.
Teach him that if he gets lost, to find a mother with children, or to stop and sit down and you'll find him.
Support him in doing whatever it is that he loves. Don't let him do everything he wants.
Don't stop him from feeling sadness or anger or fear or guilt; these emotions will teach him about himself and about life. It will be hard to see him suffer these emotions, Momma Tiger, but you must.
Don't make him the center of your life. Instead, show him that sometimes he's the center, sometimes he's not.
Show him the importance of family.
Teach him to respect adults.
When he's about 11, his devotion to you will change; it needs to change. For a period of time, his friends will be more important. One day – if you've taught him well – his wife or partner will be. This can hurt, Momma Tiger. But you must encourage it to happen … it's how he'll eventually find out how much he can love. And this – realizing the depth of our capacity to love –  is the gift of this lifetime.
You are grooming him for all future relationships with women. Teach him that we are trustworthy, dependable and strong. Teach him that there will be times when even strong women need someone's arms around them, saying, "Everything's going to be all right. I've got you."
Love him even when he's hard to like.
Hold him responsible and accountable. This is how he learns that he is.
Model for him how to deal with conflict; he will learn this by watching the adults in his home. Teach him to talk it out rather than fight it out, punch it out or numb it.
Forgive.
Forgive again.
Teach him to laugh at himself. This makes life so much easier and a lot more fun. If he's like me, he'll have enough material to keep himself amused his entire life.
Apologize to him when you've made a mistake, but not for setting limits, having an opinion or saying no.
Say no.
Let him experience the consequences of his choices; this is how he'll learn what is right and what is wrong.
Teach him to believe in something bigger than himself.
Help him see his gentleness; help him see his strength.
Imagine the man in the boy; remember the boy in the man.
Enjoy him.
And finally … relax … you're going to do great.
I think these are pretty good parenting guidelines; I certainly can look back to when I didn't see the importance of some of them and instead learned them the hard way. I expect I'll keep adding to the list as life goes on, which probably means a lot more mistakes from me. Sigh.
Looking simplistically at psychotherapy, many of these things are what we attempt to show, teach or experience with our patients.
Imagine the healing and growth that can come when we do.