Menninger recently adopted standards of behavior that are intended to guide our actions and promote a culture of excellence. This month the Psychology discipline was charged with bringing attention to one standard: "We are linked to one another by a common purpose: serving our patients and our community."
We had differing thoughts about what this statement means, but we agreed that we are linked in our battle to fight mental illness and the stigma associated with it. We believe that mental health matters, not only for the people we treat at The Menninger Clinic, but for our families and community as well.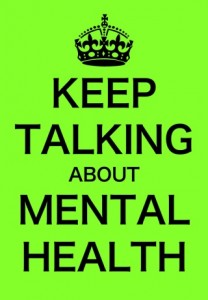 We wanted to share our views about why "Mental Health Matters" in hopes that it will create a discussion with others about why mental health matters to them. Ultimately, we are all linked together by mental illness, and despite differences in opinions, we can stand next to each other and fight to reduce the stigma.
Here's what some of our psychologists have to say about why mental health matters (stay tuned for more of our views in an upcoming blog post):
It's not just my job but how I live my life. If I encourage my patients to take risks and be vulnerable, then I hold myself to the same standard. It's the only way our culture can begin to change:  the belief that mental health matters. Patricia Daza, PhD, Hope Program for Adults

To be ill means that you cannot recover by a mere act of will. If you're mentally ill, you can't just change your mind—think positively if you're depressed or stop worrying if you're anxious. We increasingly understand the complex psychological, social and biological bases of mental illness. We have increasingly diverse treatments. But the foundation of treatment for all illness is caring and compassion, along with hope—which must be founded on realistic expectations that respect the often daunting challenges of recovery. Jon Allen, PhD, senior staff psychologist

Mental illness affects everyone, regardless if we are the one who is diagnosed. As a society we are linked together and constantly influencing each other. If one person is ill, then the effect will be experienced widespread. "Mental health matters" because we have a responsibility to take care of ourselves and our society. Rebecca Wagner, PhD, coordinator, Eating Disorders Services

Nothing convinces me that "mental health matters" more than the wealth of scientific evidence on the unity of mind and body. Examples include the strong relationships between stress and immune system function, depression and heart disease, smoking and suicide risk, exercise and depression – the list goes on and on. It behooves all of us to remember that mind and body are one – when we treat one, we treat the other. Tom Ellis, PsyD, ABPP, director, Psychology