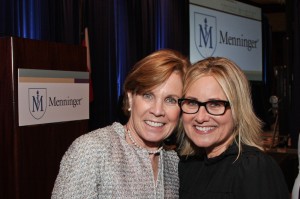 I'm so glad so many Houstonians braved the monsoon that descended just before Menninger's Community Luncheon got underway. Not only did we get to take part in the celebration honoring Corby and Barbara Robertson, we also got to hear Maureen McCormick, aka "Marcia, Marcia Marcia" of "The Brady Bunch," give her first presentation ever about her struggles with severe depression and addiction.
It was a touching story with some humor, a lot of courage, a little pathos, a little dish and a little controversy, all woven together to tell her very real story of drug use, depression and a descent into misery, followed by the life-changing experience of getting help and ultimately regaining her voice.
In her talk she made a somewhat provocative statement that she felt she had reached the point in treatment where she could finally taper and discontinue taking medications and use the skills she had learned in therapy and treatment to manage her thoughts and her mood. And she has to date done so. As she related this decision and experience, I noticed there was some head-shaking in the audience.
So what to think about this? Certainly, in the best scenario, the doctor and patient are both in agreement about such a decision and are aware of the potential pitfalls. The literature supports a trial off meds after a year or two of full recovery from moderate depression, and consideration of long-term use after a second relapse.
However, not much has been studied about what to do ten to 12 years down the road when a client has matured, has fewer stresses, more coping skills and better support systems. There are many opinions and internet stories, but in the end, it is not completely known how and when to taper medications after years of use. So the fear of upsetting the apple cart and experiencing relapse, and the relative skill of the patient in using other skills, often dissuades the client and physician from partnering in the process.
There is also this unanswered question: Do we as practitioners believe in the therapies we offer? We teach cognitive behavior therapy and dialectical behavioral therapy and many other sets of skills to help our patients manage these brain diseases, but do we really trust our clients to use them?
Maureen followed her heart to believe in her own voice and wisdom and come off medication. She has come to the place where her desire to be chemical-free and the strong support she has with her husband and family have allowed her to trust her hard-won knowledge, believe in the skills she learned in her years of treatment and believe in her ability to apply these skills after coming off medication.
This may not (and perhaps should not) be the path for everyone, but for Maureen, it is working and is the path to her goals. So brava and thanks to her for sharing her journey to good mental health.
Editor's note: Actress, author and mental health advocate Maureen McCormick is pictured above (right) with Maureen Hackett, chair, The Menninger Clinic Foundation.