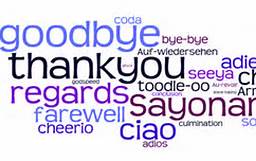 As I reflect back on my nearly three years as part of the Menninger team, I think first and foremost about what an amazing opportunity I was given and secondly, about what an incredible journey it has been. Now, faced with the transition of leaving the familiar, safe and comfortable to pursue an advanced degree across the country with a smattering of the unknown, I'm feeling nostalgic and just a bit apprehensive.
My experience in leaving Menninger is not unlike the feelings many of our patients have when discharging. Even when I first arrived, like many patients, I felt a mixture of apprehension, anxiety and concern. I wondered if I would ever get the hang of it, remember everyone's name, understand my role or meet the expectations set before me. And yet, with time I settled in, became familiar with staff and began to form significant and lasting relationships in an environment I grew to trust and admire. They say when you find a job you love, you never work a day in your life — truer words were never spoken.
I've grown attached to the people I work with, to the routine I know and to the expectations of my position that I feel confident in meeting. I've felt proud to share with family and friends that I work for The Menninger Clinic and experienced a calm and content mentality as I drive to work each day. So why change? Why alter this comfortable and predicable routine that has brought me such joy? It's a question that I have grappled with over the past few months, and one which I now know the answer to: because I need to.
Change is an inevitable part of life, and growth is a byproduct of that change. In order to experience true fulfillment in life, I feel it's necessary to take chances, make changes and strive for bigger goals. In this transition I anticipate a period of adjustment, much like our patients feel in transitioning back to "the real world." I anticipate that I will feel lonely, scared and doubtful of my own abilities. I realize that things will not be familiar, that I will need to prove my abilities to a new set of people and that it will take time to get to know my new peers on a personal level. But I also know that this period of uncertainty will pass, that transition is temporary and that I will again find a place of comfort and security in my new environment.
I don't know what the future holds, but I do know that my experience here at Menninger has helped prepare me for this transition into the next phase of life. It is with the hopeful intent of returning to The Clinic in a more advanced clinical role that I take on this challenge. The experience has been immensely pleasurable, and incredibly educational. Thank you, Menninger — until we meet again.
Editor's note: We're really going to miss Heather, but we hope she can find time during her new endeavors to write some guest posts for SayNoToStigma.com. In the meantime, we hope you'll enjoy reading some of her most recent posts: