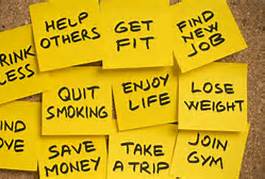 Oscar Wilde once stated, "Good resolutions are simply checks that men draw on a bank where they have no account."
Are you writing checks that your body cannot cash? Are you the person who develops five New Year's resolutions on December 31 only to drop them by January 2?
Most of us have probably developed resolutions we were never going to meet. I don't want to discourage you from trying to change, but to help you think about ways to realistically develop a strategy for lasting change.
New year, new hope
This is the time of year we tend to generate new hope. As we reflect on the year ahead, we think about what needs to be different. The process of thinking about change is critical to developing actual change. (Actually, it's a process that's helpful no matter what time of year it is.) The reason most people fail at change is that they set unrealistic expectations, do not plan and quickly grow frustrated when they cannot meet their expectations.  
New Year's resolutions usually take the form of either starting something, e.g., exercising, organizing, spending time with family, or stopping something, e.g., smoking, drinking, eating poorly.
The five most common New Year's resolutions are:  fitness/weight loss, quitting smoking, quitting drinking, achieving financial stability and spending more time with family/friends. Before you commit to your resolution, however, first take a look at what is motivating you to change.
Questions to ask
Do you really want to make the change? We often resolve to change something that we truly have no intention of doing. This can serve to be counterproductive and provide us a sense of failure. Honestly ask yourself what you want to change. Do you really want to change, or does someone else what it for you? It is important to consider what you need to do to change and devise a strategy for how you will do it.
Let's look at the fitness/weight loss resolution. The problem is that too many people think they'll go from the couch to Richard Simmons in a day. They expect the body will follow the mind.
I recently heard someone say that they know they can run a 5K without a problem, despite not having run in twenty years. The likelihood is that they would be unable to accomplish the goal of running a 5K without training and practice. (You'll recognize them because they're the person who starts out sprinting and is walking by the end of the first mile.)
Achieving lasting change
The danger in having unrealistic expectations is that when we fail, we give up. But change doesn't happen quickly; in fact, it doesn't happen at all if we aren't realistic about our expectations. Instead of trying to exercise five times a week, set a goal of twice in the first week and three times the next. We build toward positive change, which carries the promise of lasting change.
Use these simple five tips to help you on your way to change:
When we resolve to change, we need to come up with a strategy to change. Simply saying you want to do something does not fuel the change. Consider the strategy and outline a process of change that is simple and realistic.
Keep resolutions to a minimum. Attempting to stop or start multiple things may serve to overwhelm you and prevent you from doing any of them. It makes good sense to keep change simple and to tackle one major change at a time. Having multiple resolutions may be too much for the brain to process and may make change difficult.
Develop accountability partners. Lock in someone who will support your change.
Appreciate the changes you are attempting and reward yourself throughout the process. If you are keeping goals simple, you can appreciate exercising more, eating better or reductions in behaviors.
Attend to your stress. Many resolutions center around behaviors such as smoking, drinking or problematic eating that are in place to cope with stress. When we change these behaviors, we need a new plan for how to manage stress.