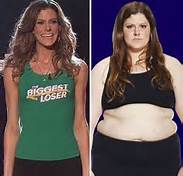 Rachel Frederickson, (right), the most recent winner of The Biggest Loser, lost 60 percent of her body weight on the show. The "winner's" initial weight of 260 pounds made her BMI a health risk at 44.2, while her new weight of 105 pounds also has her BMI a health risk at 18.1.
Is she healthier now than before? Experts encourage a 10 percent weight loss in six months and then a re-evaluation of health goals.
Remember, she lost 60 percent of her body. What will this extreme weight change do to her future physical and emotional health?
Her weight loss makes me sad and worried about her physical and emotional health. It makes me curious to know how she feels emotionally and how she sees her body. It makes me want to reach out and see if she's seeing a dietitian and working with a therapist. It makes me wonder how people who would benefit from weight loss will feel if they succeed at losing 5 percent? Even a 5 percent weight loss will promote improvements in blood sugar and blood pressure.
Extreme measures
Contestants in the The Biggest Loser are publicly shamed about their past food choices on the show. They are taught ways to restrict calories; they endure extreme exercise; and they're told some foods are good and some are bad. When we use extreme measures to promote a weight change, our bodies are not being respected.
Weight loss is only recommended if there's going to be an improvement in health.
People often ask me the best way to lose weight. Is it a diet? A pill? An exercise? Do certain foods make you gain or lose weight? People love quick results, AND they want the solution to be easy. What many people fail to recognize is that health is what's important, not weight.
Weight loss is only recommended if there's going to be an improvement in health. If you're in the overweight category but eating within your energy needs and exercising, what will a reduced number on the scale do for you? If losing weight is not going to improve your blood pressure, lipid profile, blood sugar, bone density, etc., then it's time to question why you are doing it.
Lifestyle changes
If you do need to lose weight to improve your health, then make lifestyle changes and remember that weight management experts recommend a weight loss of one to three pounds a week. Lifestyle changes will enable you to eat at restaurants. Lifestyle changes let you enjoy chocolate chip cookies without feeling guilty. And lifestyle changes mean you don't have to exercise to extremes.
Did you know that over-exercising is a form of purging?

If you exercise for hours every day, parts of your life are being sacrificed. The risk of injury to your body is greatly increased, and burnout is likely.
Weight is simply a number and it does NOT define us as healthy, unhealthy, happy, sad, strong or weak.
A number does not make us good or bad, and a bathroom scale should not dictate our days. Two people can have the same ethnic background, be the same height and have two different healthy weight ranges. One of us can be healthy at a BMI of 23 while another is healthy at a BMI of 27. Everyone has a unique genetic blueprint.
Remember, food is designed to provide nourishment for our bodies. Each food group provides our bodies with key nutrients to promote optimal physical and emotional health. Avoiding a group deprives our body of nutrients; for example, carbohydrates provide our brain with energy and milk nourishes our bones.
Avoiding extremes
I can't get in touch with The Big Loser winner, but I can reach out to people through this blog.

So how do you make lifestyle changes without going to extremes? Take a moment and reflect on your food and exercise habits. Are you active most days of the week or not at all? Do you eat three meals a day or skip breakfast? Do you drink adequate water or have soda with all your meals? How many fruit and vegetables do you eat daily? Do you need weight loss or simply better habits?
Once you have reflected on your habits, identify two or three behaviors to change. After a week, see if you feel any difference. Then make new goals or find new ways to achieve your past goals. You cannot fail: It's a lifestyle, not a diet.