Every year during National Nurses Week I think back on the start of my career more than 20 years ago and how I always knew that my life's passion was nursing.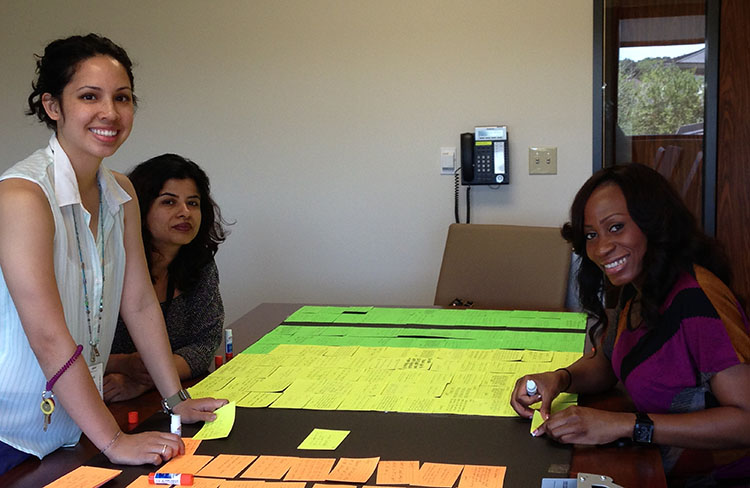 (l-r) Nurses Rachel Lei, Avani Thakkar and Donna Onyekwena prepare a project for Nurses Week.
On a search to discover which aspect of this care-giving profession would be most fulfilling to me, I started out working in the cardiac unit of a local hospital and then I worked in the emergency room, where many of the patients had a mental illness. It didn't take long for me to recognize that my patients needed more from me than quality care; they oftentimes also needed me to fight on their behalf.  
Combatting stigma
You might ask, "What fight is there for a nurse?" Good question. It's the fight against the stigma associated with mental illnesses and mental health treatment.
Many of the patients here at Menninger's Hope Program for Adults feel hopeless and helpless because this is their second or third time in treatment and even they have developed stigma-filled perceptions of their illness. Since we know that stigma clouds treatment and that education goes hand-in-hand with diminishing stigma, all of the nurses here at Menninger play an important role of educating patients and their families to break down the false perceptions about psychiatric illnesses and life after treatment.
During the six to eight weeks that our patients are here, we are constantly working to instill hope in them, to reinforce the fact that their illness is not their fault and that, with proper treatment and development of cognitive behavior skills, they can be successful and productive. That's what patients need to be reminded of so they can stay the course of treatment; it's also what family members need to know so that they can be supportive.
Like nurses in traditional medical settings, it's more than just patients' psychiatric treatment for us; we're working to break down barriers that patients may face internally, with their family or with the public when they leave treatment.
Our first priority is making sure that they are well and that they are able to identify their own behavioral triggers and coping skills. Then, our commitment to diminishing stigma must reach far beyond the walls of Menninger to advocate on behalf of everyone suffering from mental illnesses.
Treatment success leads to advocacy
I've learned over the years to appreciate that there's no greater sense of fulfillment for a nurse than when you hear from patients who are doing well after treatment and when patients actually become advocates themselves.
For instance, every year some of my fellow nurses and I accompany several patients in the annual NAMIWalk sponsored by the Greater Houston chapter of the National Alliance on Mental Illness. It reminds me there's no better proof that mental health treatment can be very successful than seeing former patients participating in normal, everyday activities.
I believe that this is the ultimate example of what most nurses are all about: educating, instilling hope and inspiring transformational change for patients, families and the entire community.