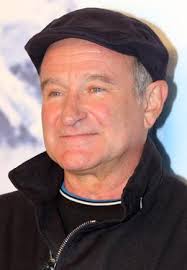 For the last several days, we have been riveted by the tragic suicide of Robin Williams, a larger-than-life favorite on both the large and small screens.
However much we know about the prevalence of depression and of suicide itself, we are still shocked when someone who feels so familiar chooses this way to disappear. Yes, we have heard about the chaotic private lives of many high-profile entertainment figures, but too often in the media, that is the story — one of scandal and hijinks.
What we usually don't know much about is what is really going on inside their heads, in those internal landscapes of thoughts and feelings. Those are private worlds, however — we don't have to know about them, and we shouldn't. But somebody who can help needs to be allowed in, and this applies to all of us. I would go so far as to say that no one is 100 percent immune to the powerful, magnetic idea of suicide. When misfortune and stress become overwhelming and we feel like we're boxed into a corner of hopelessness, it may seem to be the only way out.
I don't know the whole story of the life of Robin Williams, nor is it my right to know. But I'm sure there was a lot of pain and suffering inside. When it's after the fact, like now, it's inevitable for those close at hand to feel not just the personal loss, but regret and even guilt about ways they might have tried harder to help.
A psychiatrist friend of mine, Steve Dubovsky, who is chair of psychiatry at the University of Buffalo, was quoted yesterday saying that "the best way to prevent someone from committing suicide is to ask about suicidal thoughts."  Good advice. It's hard to do, but the less it's secret, the better the chances are to figure out other options.
Depression is a brain disorder, and we shouldn't be ashamed of it. There are good treatments that work — not always at first, but almost always in the long run.