A few years ago I wrote a blog post about the trait of stubbornness and its application to personality disorders. This time, I'm here to delve into the complicated and misjudged trait of envy.
According to the DSM–V, the trait "often envious of others" is among the traits of narcissistic personality disorder. Two perfectly reasonable questions to ask yourself are, "What exactly defines the word often?" and "Is all envy bad?"
Envy is commonplace
I agree these are important questions to ask in a diagnostic process, and it is my job as a research interviewer to determine if a person has a certain trait by asking a series of diagnostic questions as delineated in the Structured Clinical Interview for the DSM-IV.
In fact, as in the trait of stubbornness, many people I interview endorse being envious right off the bat. According to Merriam-Webster, envy is the "the feeling of wanting to have what someone else has." Envy is, in part, what drives us. It allows us to strive for whatever we want to accomplish.
I'll admit that I'm guilty of being envious, and it's not a rare occurrence. It's so commonplace, you might even say it's the American way. So at what point does envy become a bad thing? What did the writers of the DSM have in mind when they said, "often envious?"
Envy vs. jealousy
It is also important to recognize the fundamental difference between jealously and envy. Jealously occurs when a person possesses something which becomes threatened, usually by a third party.
An example: My best friend and I spend lots of time with other. My best friend begins dating a girl, taking up some of the time we used to spend with each other. As a result, I become jealous. Envy is a two-person dynamic which occurs when someone lacks something. My best friend gets a new car and I want it, therefore, I am envious (Smith, 2014).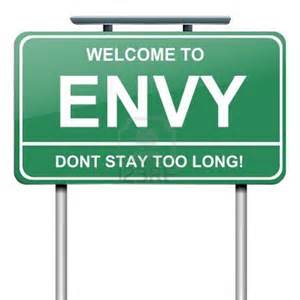 So, first let me touch on the DSM-V's commentary on the subject. It states that people who possess the trait of envy may begrudge others their successes or possessions. Such individuals may also feel that they are more deserving of achievements, admiration or privileges. They may also harshly devalue the contributions of others, especially when these individuals receive praise for their accomplishments.
I agree that there are degrees of envy, and it may have more of an impact on us than we may believe. But maybe envy has gotten a bad rap; it clearly has an implicit negative connotation. It is one of the seven deadly sins, and while I will not even touch on envy's relevance to religion, it is pervasively seen by many cultures as an undesirable quality. As far as the DSM is concerned, it all comes down to "functional impairment" — that is, how much it interferes with someone's life.
Envy and personality disorders
In one study, Emmanuel Habimana (2002) examines the role of envy in personality disorders. He questions why the trait of envy is only seen in one criterion of one personality disorder, despite it being such a common and widespread trait. Habimana asserts that envy cannot be restricted to narcissistic personalities. He also explores the link between envy and maladjustments such as interpersonal conflict, low self-esteem, depression and criminal behavior, just to name a few. Envy is truly a cultural and social phenomenon.
Habimana also states that there are two types of envy: morally acceptable and morally reprehensible. Acceptable envy occurs when "an individual lacks what others have and either desires it, admires the persons envied or wishes to be like them." This type of envy can be seen as motivating and healthy. The latter type of envy involves wanting to take what someone else has and is more malicious. So there are different types of envy and the trait of envy is not always a bad thing.
Envy in context
Like stubbornness, this trait should be viewed in the context of relationships. One scenario: A person engages in a relationship with someone they admire and idealize. This person begins to feel envious and then he or she sabotages the relationship. In psychotherapy, this dynamic can cause such envious patients to destroy a promising therapeutic relationship.
I could continue writing about the concept of envy till the end of time. It can be debated philosophically, psychologically, semantically, religiously and sociologically. The point I want to make is that if you find yourself being envious, don't feel bad; you're in good company. If you do feel like it is becoming a problem for you, it is a perfectly reasonable topic to discuss with someone close to you. whether it be a family member, friend or therapist.
References
1. Diagnostic and Statistical Manual of Mental Disorders, Fifth Edition (DSM-V). Washington, DC: American Psychiatric Association; 2000.
2. Habimana, LE. Envy manifestations and personality disorders. European Psychiatry. 2000; 15:15-21.
3. Smith, R. What is the difference between envy and jealousy? Psychology Today.com; January 3, 2014.