On the shelf of my cubicle sits a Hallmark-brand Peanuts tree ornament with Charlie Brown seeking Lucy's 5-cent psychiatric help. It reminds me of watching every holiday Peanuts TV special while growing up and the mental health setting where I work today.
Hallmark moments create a warm feeling, don't they? A kind of Hallmark moment came to mind recently as I read about the nation's first electronic mental health screening kiosk. The gizmo is stationed in a wellness clinic at a Philadelphia ShopRite grocery store.
Finally! The blood pressure cuff station at the grocery store has a companion, one that will encourage people to stop and take stock of how they are feeling today, á la Charlie sitting down with Lucy.
Here's How it Works
A Charlie or Charlotte Brown steps up to a touch screen and answers just over a dozen questions for a quick checkup from the neck up. Now that's what I call normalizing mental health, courtesy of today's technology and research-proven questions.
The kiosk pictured here sits in the wellness clinic's waiting area for tests for strep throat, vaccinations, etc. I only hope that this single kiosk's results will create a snowball effect, ending with private and commercial support to put one of these kiosks in every in-store medical clinic in the country.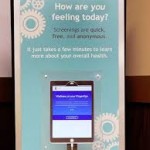 What Does this Screening Do?
Developed by mental health professionals, the questions cover seven areas to identify signs and symptoms of common mental health issues such as anxiety, depression, trauma issues, eating disorders, substance misuse and bipolar disorder.
Charlie or Charlotte Brown walks away with a printout that states whether there is a reason to be concerned. If further assessment is recommended, referrals to nearby mental health services lands in Brown's email inbox. Not intended to provide a diagnosis – that's up to a professional – it is a positive starting point, isn't it?
While the kiosk doesn't include human interaction, it may be just the thing today's smartphone-app-happy society will accept. The kiosk doesn't require someone to search for a suitable app. It's right where you're passing with your grocery cart. Consider that Americans made 1.6 visits weekly to a grocery store in 2013 but they saw a doctor an average of just 3 times in an entire year. One in four Americans has a mental health issue every year, and just a quarter of those go get help.
When it's time for help, then it's time for the human intervention. When that happens, treatment is effective for nearly 90 percent of people.
Online screening tools have the potential to motivate people to get help earlier and suffer less. That would be a Hallmark moment in a lot of homes and lives.