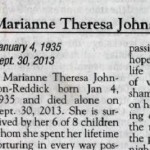 I read the obituary of Marianne Theresa Johnson-Reddick with interest.
She tortured people by her cruelty.
This abusive mother did not get a free pass to the afterlife. Two of her eight children let the world know how they were all "abrasively exposed to her evil and violent life" in her obituary.
"Mom" ran a prostitution ring, or "escort service" as the woeful women who turn tricks and the desperate men who pay for them prefer to call it.
"Everyone she met, adult or child, was tortured by her cruelty and exposure to violence, criminal activity, vulgarity and hatred of the gentle or kind human spirit," the obituary said. "Our greatest wish now is to stimulate a national movement that mandates a purposeful and dedicated war against child abuse in the United States of America."
It's unfortunate that eight children had to suffer for so long, but I applaud the desire of the two who wrote her obituary to use their mother's death as a call to shine a light on child abuse. (Learn more about what you can do to prevent child abuse.)
Perhaps that discussion will include the following valuable tidbit: Family planning is an excellent strategy for men and women who don't want to be parents to remain childless.