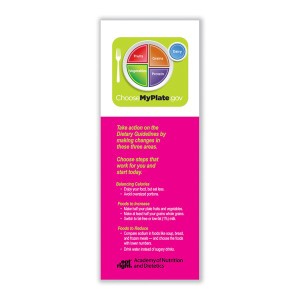 I am a nutrition geek. The science behind how our body and brain work is so amazing to me. The foods we eat help our brain work efficiently, and I love being able to teach others the link between food and mood.
National Nutrition Month
March is National Nutrition Month, and while my colleague, Tessa, and I were researching various handouts for our Nutrition Challenge, we were reminded we have to create many of our handouts because there's so much misleading information out there.
For example, we ordered bookmarks made by the Academy of Nutrition and Dietetics. They should be fantastic, right? I was super excited after I pushed the purchase button. When they arrived, I quickly tore open the package, pulled out a bookmark and read: "Balancing calories: Enjoy your food but eat less."
Wait … what? I love my food; why should I eat less? Is there something wrong with the way I eat? Am I eating too much? Am I expected to eat more of things I do not enjoy and eat less of the foods I love? Then I quickly pushed my mental pause button and checked in with myself.
I am a normalized eater. I eat intuitively by eating when I am hungry and stopping when I am full. (Well, other than my favorite fun food: peanut butter M&Ms. Those are impossible for me to eat intuitively.)
Yet the world we live and work in is obsessed with calories and perceived healthy eating. While my dietitian brain understands that many Americans overeat and that those words on the bookmark were intended to educate them on eating in moderation, I also know many people struggling with their relationship to food will take that simple bullet point to heart.
What my bookmarks would say
If I had designed my own bookmarks, these are the bullet points I would include:
Eat to fuel your body!
Calories are intended to provide your body with energy for optimal function, not to manipulate your weight.
Provide your brain with energy every 3-4 hours and enjoy an evening snack 2-3 hours before you go to bed. Maximum brain recovery and repair happen while you are sleeping.
While eating, check in with your body and listen for hunger and fullness cues. Follow those cues!
Eat to maximize your mood!
Carbohydrate-rich foods like grains and fruit help tryptophan enter your brain and release serotonin, which promotes happiness and a sense of calm.
Enjoy fatty fish like salmon and tuna 3-4 times a week for brain and mood health. Dislike fish? Enjoy walnuts or flaxseed instead.
A hydrated body can think more clearly and move nutrients around your body more efficiently.
Eat to show respect to your body!
Eat a variety of foods. Each food group and even color group of food provides your body with unique vitamins, minerals and antioxidants. There is no perfect food. Eat the rainbow.
Eat in moderation. Be mindful not to over-eat or under-eat. Let your hunger and satiety cues lead the way.
There are no good or bad foods. All foods fit — it's up to you to find a strategy to balance it out.
Mental and physical health depend on a well-nourished and respected body. Please think about incorporating my bullet points into your eating. Enjoy food. Love your body. Have a nourishful day.